Description

The 85 LX Series Sheave Alignment series minimizes belt, sheave and
motor bearing were by using "Positive Tracking" during belt alignment.
Here's How:
The laser adjustment line is visible across the entire target face and easily seen on the fluorescent target stripes.  This means coarse and fine belt and motor alignment can be seen while corrections are being made.
This Means:
Brighter Beams – More Power – Faster Setups – Visible Feedback – Direct Sunlight Capable
How It Works:
The 85 LX Series Sheave Alignment Tool projects a plane of laser light parallel with the faces of the drive and driven sheaves.  Adjustable targets attach to the sheaves, intersect with the laser beam and visually show any misalignment. The target's fluorescent stripes and reflective film enhance the visibility of the laser alignment line.  This means that you can "Positively Track" the direction and amount of adjustment required to align the sheaves and motor shaft.
3 Models To Choose:
Model RLX85 Series with a Red Laser Line – Class IIIa, <5mW @ 635nm
Model GLX85 Series with a Green Laser Line – Class IIIa, <5mW @ 520nm
Model BLX85 Series with Blue Laser Line – Class IIIa, <5mW @ 450nm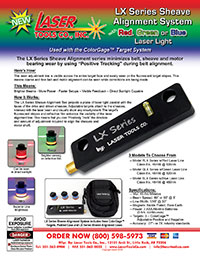 View 85LX Series
Sheave Alignment
System PDF