Solar Energy Installation Systems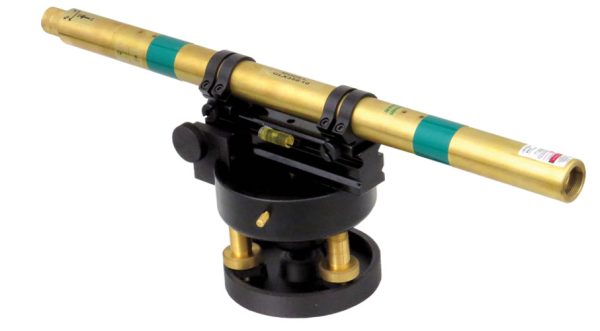 | | |
| --- | --- |
| | |
| SE-10 Solar Energy Installation System | SE-50 Solar Energy Installation System |
Contact: Joe Wortsmith, Marketing Director, Laser Tools Co, Inc.
Laser Tools Co., Inc. has developed two new laser alignment systems for industrial PV Photo-Voltaic installation contractors and commercial installers.  The SE-10 and SE-50 Solar Energy Installation Systems are used to align the support Pylons that hold the mounted solar panels and used to survey and align multi-acre power distribution fields, the leveling adapters hold the green laser that attaches to the top of the king pylon and shoots a laser reference line over the top of the pylons for fast alignment during installation.  This positions each pylon inline in order to support the solar panels.
The SE-10 Solar Energy installation System includes the AP1000 Leveling Adapter Plate with a vertical micrometer and horizontal azimuth adjustment for precise laser beam alignment over 500'.  The SE-50 Solar Energy Installation System is robust and includes a locking feature for stable laser dot alignment over 300'.
The SE-10 and SE-50 Solar Energy Installation Systems are battery operated, eye safe and include a hard-shell carrying cases.  This makes the systems portable, field rugged and tested.  These are the only two alignment laser systems manufactured world-wide for large scale, solar field and PV panel installations.
Included:
Green Laser Technology™ – 30 Times brighter in sun light
"O" Ring Sealed – Dust and Waterproof Case
Battery Powered – AA Alkaline Duracell batteries can be replaced as needed with no Service Support
3 Tier Leveling™ – Horizontal Degree Scale, Vertical Micrometer, .1 Degree Vernier along with a magnified 30 min of arc level vial
Long Distance Alignment – Green laser dot can be seen over a 1,000'
Secure Mount – Two clamps secure tool with a magnetic dovetail base
Beam Bending Options – Model AP90C; 90° Beam Bender™, Model AP180C; 360° Beam Spreader™ that generates a line for reference between two points
For more information contact Laser Tools Co., Inc., 12101 Arch St., Little Rock, AR 72206, Phone 501-562-0900, FAX 501-562-0022, Web Site www.lasertoolsco.com, e mail info@lasertoolsco.com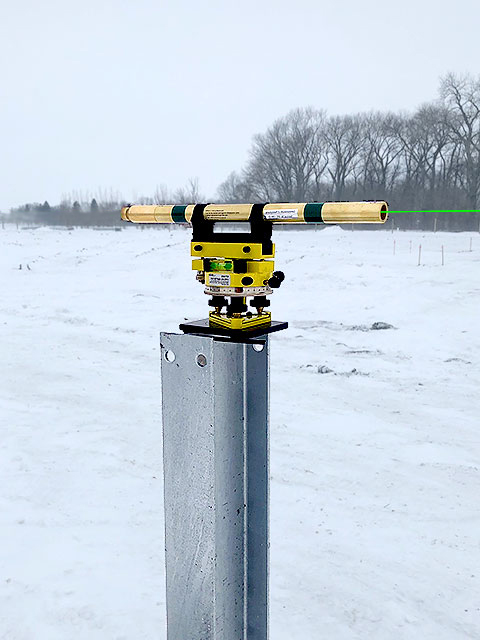 SE-10 Solar Energy Installation System Mounted onto a PV Field King Pylon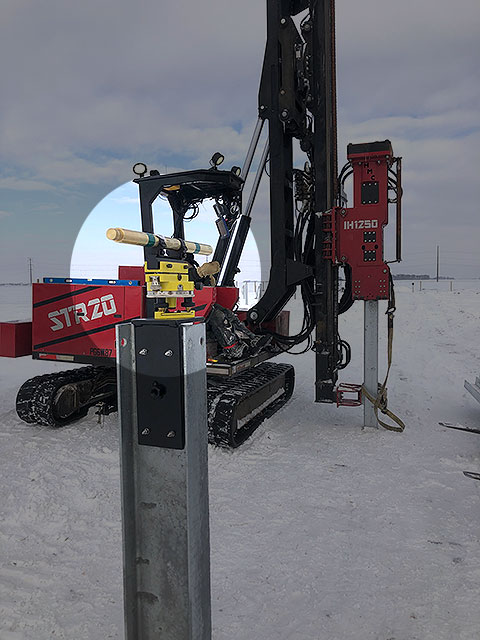 SE-10 Solar Energy Installation System with Mount Bracket on King Pylon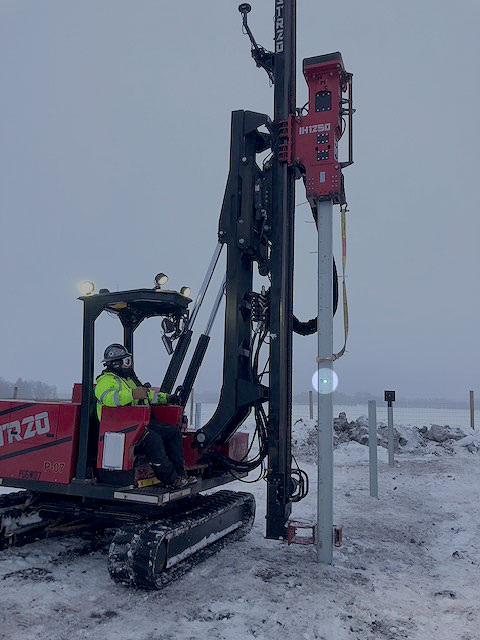 Green Laser Alignment Dot on Pylon under vibratory tamping installer.