Laser Tools Co. Exclusive – LASER DOCKING™ SYSTEM FOR TRUCKS & TRAILERS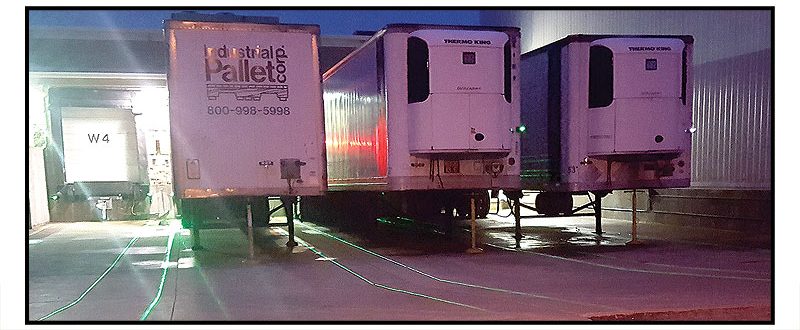 LASER DOCKING™ SYSTEM FOR TRUCKS & TRAILERS
"Green Laser Runway Lights for Freight Terminals and Warehouses"
Backing 53' trailers centered to loading docks is time consuming, dangerous and error prone. Trailer and terminal docks are regularly damaged. Use the GLX series green laser lines to stripe trailer loading lanes. This results in faster and more accurate trailer docking. Laser lines are visible on all surfaces including water, mud, gravel and snow! Works best during morning, evening and night times.
Laser Guide Beams easily viewed in backup mirrors:
Center trailers to docks during backups.
Separates Trailers
Lasers replace painted lines and tape
Minimizes damage to trailers and docks
Faster loading and unloading trailers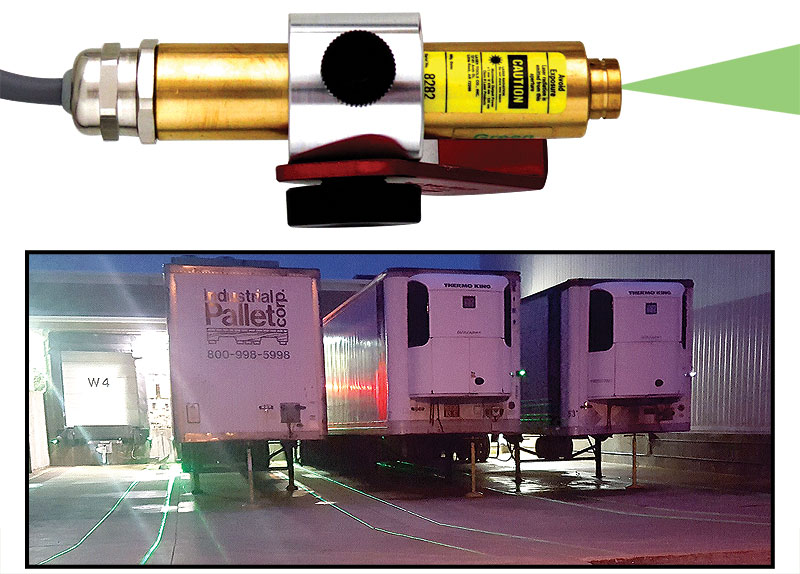 Loading Dock Laser Guide Beams
This is why Laser Tools Co.'s Laser Docking™ System is the perfect trailer docking assistant. A driver can "see" the laser docking lines in his wing mirrors when the truck and trailer are approaching the docking lane. This guides the driver while backing up to the loading dock. Also, the laser lines provide a visual indication that the trailer is centered to the loading dock.
How a Laser Docking™ System Works
If you shine a laser beam onto a floor, you'll see a dot. If you install line generating optics, the dot will turn into a line. But viewing the dot or line from the point of view beside or behind the laser is not totally revealing. If you stand in front of the laser line generator module and look at the laser line, the increased brightness is noticeable. This is because you are viewing the incident light reflected off of the floor. Also the viewable line is much longer. This means that the brighter laser line can be seen in low ambient light conditions and farther away from the laser module itself.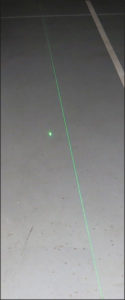 Laser Dot and Laser Line
viewed from above beside
the laser module.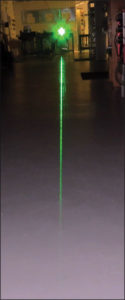 Laser Line viewed
facing the laser module.
TWO MODELS TO CHOOSE FROM:
Model GLX58BAC:
• 30mW, Class IIIa <5mW@515nm
• Line Generator: 30° Angle of Divergence
• Power: 110VAC
Model GLX58BDC: 12VDC to 36VDC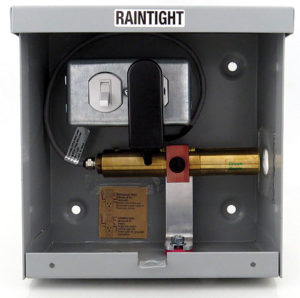 OPTIONS:
Model HB59 Steel Enclosure: Rugged and Rain Proof Enclosure for Outdoors 50mW power upgrade is 40% brighter